Legislative Update
This week was filled with debate and committee meetings. I am proud to report that the Blue Alert Bill that I sponsored was signed into law by the Governor. This bill passed the House and Senate and was signed by the Governor in record time. I only wish that other deserving legislation could do so as well.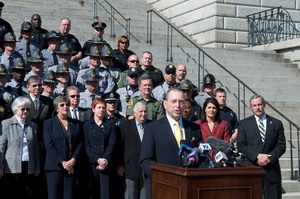 The bill regarding DUI on mopeds is still stalled in the Senate by one lone senator.
We bagan debate on the drug testing bill Thursday and because of time, we had to adjourn debate until the week of March 19. We expect vigorous debate before it passes before the deadline to get it to the Senate.
Speaking of the Senate, we are all aware of the resignation on Friday of Lt. Gov. Ken Ard. This has set off a litnay of events that will take place this coming week. We are likely to witness history like we have never seen before. Stayed tuned to the Senate to see what transpires. We certainly wish Senator McConnell well in his soon to be position of Lt. Gov.
2012-2013 FY Budget – We will begin debate on the 2012-2013 FY Budget on Monday and will stay in session until it passes the House.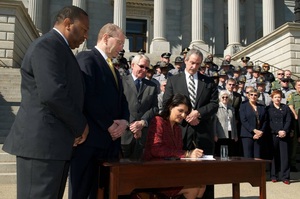 In the last few weeks, the House Ways and Means Committee held public meetings and approved the 2012-2013 State Appropriations Bill. This balanced budget, which falls within the guidelines of the House's legislation to cap spending, is now headed to the House floor for debate. This year's state budget focuses on the core functions of government – education, infrastructure and law enforcement – all of which are vital to our state's growing economy.
– The budget totals $6 billion in General Fund appropriations and includes:
– $180 million set in reserve to fully pay for South Carolina's share of deepening the Port of Charleston.
– $152 million in additional funds for K-12 education that will make it to the classrooms in the form of  teacher salary increases. This will bring base student cost to pre-recession levels.
– $24 million to train workers through the readySC program provided by our Technical Colleges and an additional $10 million towards the Dept. of Commerce's closing fund.
–  Nearly $400 million to fully fund our state's reserve accounts.
–  $47 million to State Unemployment Tax (SUTA) relief, which will lower the average tax per employee for businesses.
H – 3066 Restructuring – Department of Administration Update
After receiving Senate amendments on the House's S. C. Restructuring Act of 2011, the House is poised to respond upon review of the amended bill. It's a common saying that "the devil is in the details", and with almost 100 pages of Senate Amendments, we are working right now to analyze the Senate amendments to ensure that the S.C. Restructuring Act enacts true reform in your state government.
Taxpayers deserve reforms that makes government leaner, more efficient, and more accountable. After passing this bill 3 times over the terms of two Governors, the House continues to be the driving force in restructuring reform and remains vigilant in passing a bill that brings true change to an archaic government bureaucracy.
DOT Reform – While editorials around the state have been calling for reform of the S.C. Department of Transportation to stay on the front burner, the flame was doused this week. The DOT reform legislation was kicked back to committee after heated floor debate. It's unlikely we see it again this session. DOT needs to be reformed and we are working to see that it happens.