We began our Legislative Session on January 12, 2016 and immediately commenced work in committees and sub committees. Last year, we basically cleared the House Calendar, as you can see below on our scorecard. We will be working for the first three weeks in committees with very little time on the floor of the House, so don't look for much in the way of news.
Legislative Scorecard
Thus far, 1602 bills have been filed this session (2015 & 2016) with 131 being signed into law. That's 8%. In my view, it's good that so few have become law. Much of the proposed legislation isn't needed. Most often, the bills are just calling for more government intrusion into our daily lives and further restriction of our personal liberties.
Halfway through the legislative session (2015 & 2016) here's a scorecard of big issues: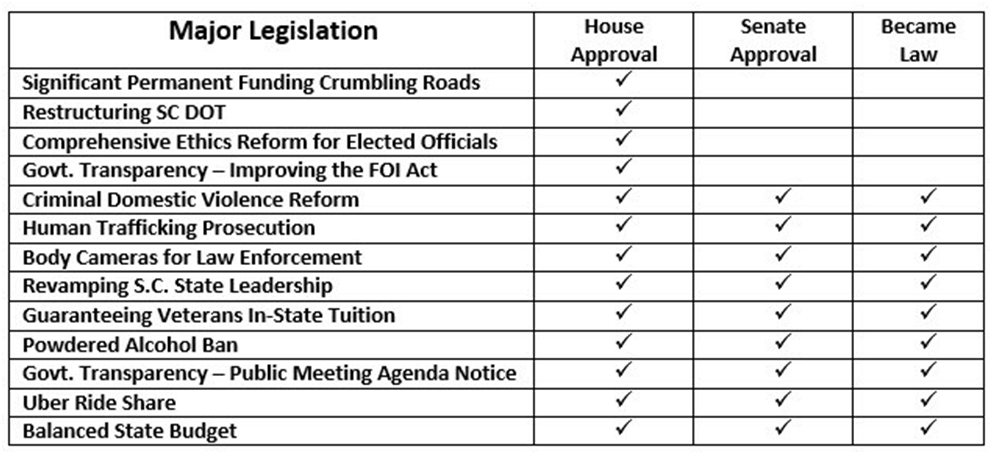 We Have Much to Do!
The remaining list of significant legislative challenges is long. For a couple of big issues (i.e. roads and ethics) the burden rests with the Senate which is renowned for its deliberative oratory.  Some of the high profile issues that are pending include:
Determining best method for the long-term funding of road and bridge infrastructure needs.
Restructuring SC DOT to eliminate waste and inefficiencies while restoring confidence.
Transforming K-12 education to address the Abbeville Supreme Court ruling while bringing 21st Century education to all students.
Providing financial aid to flood victims, including farmers who are being driven out of business.
Tackling tax reform in a meaningful way. Lower the state income tax rate providing tax relief for citizens while being more competitive with our neighboring states.
Determining the costly investment failures at the SC Retirement system and fix them.
Updating SC's antiquated eminent domain law to better protect citizens.
This year we have worked on several bills that may be of interest:
Mopeds: The House gave final passage to comprehensive moped legislation (H.3440) calling for mopeds to be registered and moped riders to be licensed and insured. And yes, mopeds would finally have to follow all traffic laws.
Help for Terminally-Ill: A state Senate panel advanced a bill that would give terminally-ill individuals in South Carolina the right to have access to medications that are in clinical trials.
Teacher Pay: Gov. Haley proposed for SC to pay the full college tuition costs of future teachers, provided those teachers are willing to work for eight years in struggling, high-turnover school districts.
Judicial Reform: My bill to reform the way magistrates are chosen passed the Constitutional Laws subcommittee and has been forwarded to the full Judiciary for debate. This will be tough to get passed since magistrates are currently appointed by the Senators, with no judicial screening. My bill requires those that apply for a magistrate's position be screened by the Judicial Merit Selection Panel and the Senators can then choose from those found qualified.
SC Legislative Prayer Caucus Launched
God is in control, not man nor politicians! At the Statehouse Wednesday, more than 60 Representatives, Senators and State Constitutional Officers officially launched the SC Legislative Prayer Caucus. We individually signed a Resolution acknowledging God's greatness. His Will be done.
Thank you for the privilege of serving you in Columbia. Your feedback and assistance is critical in ensuring your voice is heard in our state government. If you have ideas on issues you want me to share with the rest of the General Assembly, or if you need assistance in any way, please don't hesitate to give me a call at 864-529-2860 or email me at eddietallon@schouse.gov. Remember, you can go to www.schouse.gov, click on my name and see how I have voted on each and every issue before the house. You can also see any bills that I have sponsored or co-sponsored.