Spending Your Money!
The SC House of Representatives focused solely on one issue this week – debating the state's 'General Fund' budget that totals nearly $8 billion. Months of committee hearings resulted in a couple of hundred votes over several days including one 15-hour day of debate.
How Your Tax Money is Spent!
The proposed total state budget is nearly $27 billion. 70% of that comes from specific federal government programs and through the state's 'Other Funds' budget from tuition, fees and fines. Next year's proposed General Fund budget is about 4% larger than this year's. Let's put that in perspective:
The last General Fund budget before the 'Great Recession' totaled $6.7 Billion (FY 2007-2008)
The General Fund spending was slashed 23% during the recovery and bottomed out at $5.1 Billion (FY 2010-2011) with many critical state services severely hampered.
This budget proposal is $7.9 billion. Factor in only inflation (and not population growth) to the pre-recession budget and this year's proposed budget represents a 6% real increase.
This proposed budget has recurring growth of 4.77%: 2.5% of this was used for Constitutional Reserve Funds, Pension Stabilization, and State Health Insurance increased costs.
Government budgets are complex, so here's a list of the key funding items in this proposed budget:
$22 million to fully fund SC's 'Rainy Day' Reserve Fund (totals $503 million)
$584 million in direct tax relief for South Carolinians
$100 million on upgrading K-12 schools with a high poverty index
$38 million in additional K-12 per-student funding
$19 million to cover the growth of public charter schools
$10 million to purchase new school buses
$82 million to help counties and communities damaged by Hurricane Matthew
$1.25 million to aid for Pinnacle Mountain fire
$150 million to fund Year 1 to reduce multi-billion pension liability
$25.4 million to cover 100% of the state employee health insurance increase
$45 million to bolster Medicaid's expanded maintenance of effort costs
$16 million to fully fund the dam safety program
$4 million to hire and retain correction officers at our prisons
$25 million toward completing a federally required computer system for tracking deadbeat dads.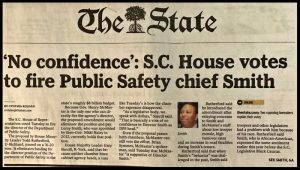 Top Cop Gets No Confidence Vote
The House voted to show its displeasure with the state's public safety director by stripping his salary from next year's budget. The 76-20 vote for the amendment to eliminate Leroy Smith's position and pay. While only the governor can fire a Cabinet official, the House can refuse to authorize or fund the position. Trooper morale is low and the agency is having trouble hiring and keeping troopers. Proponents argued there is a serious problem in the Department of Public Safety and that problem is at the top.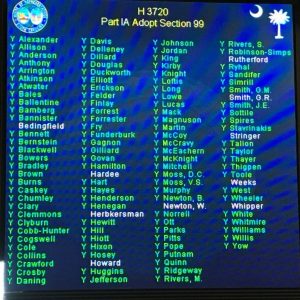 Pension Investment Commissioners Salaries Slashed to $1.00
There was unanimous support of Representatives to basically strip the salaries of the five Commissioners (bios here) of the SC Retirement System Investment Commission who have done a lousy job of investing pension dollars. By some estimates their decisions have cost the pension system $6 billion (that's with a B!). Their collective failure is costly to EVERY taxpayer as we have to make up the shortfall.
Famed John de la Howe School Dumped from Budget
The House budget calls for the elimination of this state-run school for at-risk youth and turning its operations over to Clemson University. The McCormick County school lost its accreditation and only has about 30 students and a staff of more than 50 costing about $5 million a year. Budget language would have Clemson decide how best to reopen John de la Howe in keeping with its original mission as a place for orphans to learn agricultural skills.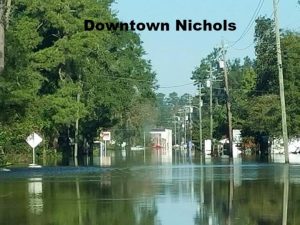 Good News for Nichols
Following Hurricane Matthew, the little hamlet of Nichols in the PeeDee  was ravaged by flood waters. Today, most homes remain vacant and businesses closed. Many reached out to Nichols and sent a truck loads of needed donations as well as monetary donations. This budget took the unusual step of singling out a specific town for help by allocating Nichols $700,000 of the $82 million in hurricane funding.
Budget Moves Forward
The House voted 115-3 in the wee hours of Wednesday morning to send its budget proposal to the Senate where it will be debated and amended.
In other news…
Senate Battle Lines Drawn Over Gas-Tax Hike
By a 14-7 vote this week, the Senate's budget committee approved increasing the state's gas tax by 12 cents a gallon and hiking other fees. A few weeks ago, the House voted to raise the gas tax 10-cents over five years (61% tax increase) while Senators seek a 72% increase over six years. Fourteen Republican and Democrat Senators voted for their plan; seven Republicans voted against it. That's a sure sign that battle lines are forming in the Senate over increasing the state's gas tax. Sen. Tom Davis, R-Beaufort, who filibustered a tax increase the past two years, has vowed to it again. He wants changes in the structure of SCDOT and off-setting income-tax cuts. Last week, Gov. Henry McMaster said he opposes raising the state's gas tax.
Thank you for the privilege of serving you in Columbia. Your feedback and assistance is critical in ensuring your voice is heard in our state government. If you have ideas on issues you want me to share with the rest of the General Assembly, or if you need assistance in any way, please don't hesitate to give me a call at 864-529-2860 or email me at eddietallon@schouse.gov. Remember, you can go to www.schouse.gov, click on my name and see how I have voted on each and every issue before the house. You can also see any bills that I have sponsored or co-sponsored.