Henry McMaster, SC's Lieutenant Governor, was sworn in at a Statehouse ceremony moments after Nikki was confirmed as U.S. Ambassador to the United Nations and resigned her job as the state's chief executive. McMaster thanked Haley for her contribution to the state and said he was "humbled, honored and deeply appreciative of being granted one of the rarest opportunities to serve the people of my state, my home and that of my forefathers." McMaster and wife, Peggy, plan to move from their Columbia home into the Governor's Mansion as soon as possible.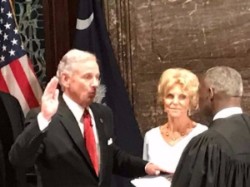 Statehouse Musical Chairs
Senators elected former State Sen. Kevin Bryant, R-Anderson, to become Lieutenant Governor. He replaces McMaster. Since the state constitution requires the Senate president pro tempore move into the vacant lieutenant governor's position, senators temporarily elected Bryant president pro tem so he could take the office. Senators then reelected 85-year-old Sen. High Leatherman as President Pro Tempore, but it came after a revolt by two-thirds of his own party. Leatherman is widely viewed as SC's most powerful elected official.
Gone!
Aiken County Rep. Chris Corley resigned his seat in the House of Representatives just moments before House leaders formally began an effort to expel him. Corley was indicted on domestic violence of a high and aggravated nature and for pointing a weapon at his wife. Following the initial indictment, he was suspended without pay from the House.  I, along with many Republicans were calling for his resignation. A special election will be held in May to replace him.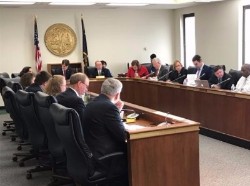 DJJ Under Fire
Less than a day after a blistering audit revealed inadequacies at the SC Department of Juvenile Justice (DJJ) the director of that agency resigned and Gov. McMaster announced a law & order replacement to the position of Acting Director. The Legislative Audit Council report found the agency, which runs the state's juvenile prisons, to have under trained staff and is ineffective in responding to violent incidents at the state's main youth prison. There was one major riot at the main DJJ facility and there have been two deaths in their system. On Thursday, DJJ officials appeared before our House Oversight Committee, which I am the Chairman. During the grilling of the DJJ staff, legislators were clearly appalled at the extent of problems inside the agency and called for immediate changes. The resignation of the director came one day later. (The State reports)
First Step Forward for Government Transparency Bill
Improvements in SC's Freedom of Information Act are on a fast-track. H.3352 won quick approval from a House sub-committee and should be before the full Judiciary Committee next week.
Crackdown on "Liquor-cycles"
Rep. Cole and I have passed this legislation out of the House since the 2011 Session only to have it die in the Senate. It passed both bodies last year only to be vetoed by our former Governor. The Senate unanimously passed legislation (S.197) that would charge drunken moped drivers with DUI. A quirk in state law does not treat mopeds as vehicles, meaning drivers are not violating state DUI laws when they operate while intoxicated. Moped drivers are also able to continue using mopeds after their driver's license is suspended for DUI. The proposed legislation also would raise the age to drive a moped from 14 to 15. It would also require moped drivers register with DMV and follow the same traffic rules as other vehicles.
Vets Tuition Bill
Next week the House will vote on a bill (H.3035) that allows military personnel who have been honorably discharged to receive in-state tuition at our public colleges and universities by effectively removing the non-resident 12 month waiting period to receive in-state tuition.
Appointing State School Chief
A proposal that would make the state Education Superintendent a position appointed by the governor, changing it from the statewide elected office it is now advancing in both the House and Senate.
Computer Curriculum Advances
We don't often see a bill sponsored by two-thirds of all House members. The SC Computer Science Initiative would increase access to computer science experiences for all K-12 students. H.3427 won committee approval and will be debated by the full House next week.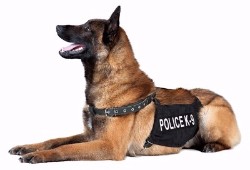 Animal Cruelty Penalties
Legislation to increase the maximum jail time and fines for those who hurt or kill police dogs and horses is moving forward. A state Senate panel has advanced bill (S.06) which would increase the maximum prison sentence for hurting or killing police animals from 5 years to 10 and the highest fine from $5,000 to $10,000.
Curtailing Drones
A bill that would ban drones from flying near the state's prison and jails received approval from a Senate Committee. S.176 is aimed at stopping smugglers who have flown drones over prison fences to drop contraband on the inside.
No Local Minimum Wage
A Senate committee is sending a bill (S.218) to the full Senate. It would stop local governments in SC from unilaterally raising the minimum wage. Large cities in other states have instituted wage hikes that have exceeded the federal or state minimum wage.
Reforming Taxes
The House Tax Reform Committee, on which I previously served, resumed meetings that left off before Christmas. They continue to plow through the best ways to create a flatter and fairer state tax system which includes income, sales and property taxes. There is some good news on this front – legislation to streamline the county and municipal business tax system is in the final stages of being crafted. Its passage would be welcomed by businesses large and small who are burdened by filing with every city and county in which they do work.
State of Nuclear
Legislators heard from representatives from the Savannah River Site and others about the state of nuclear in SC. This was our second annual Statehouse briefing. Most impressive was the report on SRS' National Laboratory and the many facets of its mission.
Tracking Road Projects
Want to know about SC road projects? Here's the new SCDOT Project Viewer. This user-friendly feature on the SCDOT website gives you an easy way to see active projects in your area or around the state.
Thank you for the privilege of serving you in Columbia. Your feedback and assistance is critical in ensuring your voice is heard in our state government. If you have ideas on issues you want me to share with the rest of the General Assembly, or if you need assistance in any way, please don't hesitate to give me a call at 864-529-2860 or email me at eddietallon@schouse.gov. Remember, you can go to www.schouse.gov, click on my name and see how I have voted on each and every issue before the house. You can also see any bills that I have sponsored or co-sponsored.