For those of you who watch the House online, we completed our third week of coming in at 2:00 on Wednesday and began our regular schedule last week, which requires us to begin session at 10:00 AM on Wednesdays. Don't forget, you can watch our proceedings on ETV or via your computer.
South Carolinians want potholes filled and roads repaved. Last spring, the House of Representatives sent a road fixing bill to the Senate. That's where legislative progress stalled.
Senate Roads Debate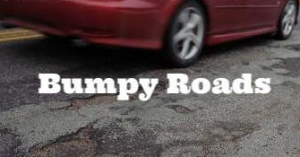 A month into the 2016 legislative calendar state senators are no closer to finding a way to fix South Carolina's crumbling roads but they spent hours last week arguing over their inability to officially debate the issue. The Senate Majority Leader criticized his colleagues for "dilly-dallying." That prompted a debate on what's blocking progress.
Many Republicans believe Senate legislation that provides for increase funding for roads, must also include tax relief for citizens and reform of SCDOT. Gov. Haley has pledged to veto any legislation that increases gas taxes without cutting income taxes and restructuring DOT. Most Democrats argue it's not necessary to link the three issues in one bill and they just want to raise the gas tax. The debate continues in the Senate as the House waits their action. The bill we sent to the Senate contained all three of the components required for the Governor not to veto the bill.
SC House Won't Waste Time & Money
The S.C. House of Representatives will furlough the week of Feb. 15 in an effort to make its case that the 6-month-long legislative session should be shortened. Nearly all major legislation has been passed by the House and awaits Senate action. The week of unpaid furlough will save SC taxpayers about $77,000.
Protecting Gun Rights
Due to a recent South Carolina Supreme Court decision, we had to go back and apply a fix to an existing statute pertaining to the 'Stand Your Ground' law. The adjustment sets forth the judicial procedure to assert the Castle Doctrine defense. H.4703 also strengthens the existing Castle Doctrine which includes provisions that prohibit criminals from using a 'Stand Your Ground' defense while committing a crime. The measure is strongly backed by the NRA and it passed the House unanimously.
Virginia Reverses Course on CWP
SC Concealed Weapons Permit (CWP) holders will still be able to carry legally in Virginia after they suspended SC permit holders from carrying in VA.
FOIA Reforms Wins Approval by Senate Panel
After 17 legislative hearings this session there is a dim light shining at the end of the tunnel for improved government transparency in SC. A Senate panel approved the bill that would enhance the state's Freedom of Information Act (FOIA) making it easier and cheaper to obtain information from SC governments at every level. The House passed this bill last spring; now it's gotten through the first hurdle in the Senate.
Judicial Reform
A bill I sponsored, requiring Magistrates to be screened by the Judicial Merit Selection Committee, overwhelmingly passed the House and was sent to the Senate. Currently, senators select and appoint magistrates without, what I and many others believe, sufficient screening. We are fortunate in Spartanburg County to have many well qualified magistrates. However, the time has come to appoint magistrates that can be screened and qualifications determined by a committee that has no political favors to reward. The days of simply appointing a person who has made a campaign contribution or is just a good ole boy should be gone.
Legislative Oversite Committee
I serve on the legislative oversight committee and we continue our inquiry into the Department of Juvenile Justice (DJJ). The inquiry surrounds new requests for additional resources from the DJJ to address growing concerns at facilities in our state. It is important the DJJ recognize signs of peril in young offenders and provide them proper rehabilitative structures, thus helping the offender regain control of their life while saving taxpayers from footing the bill for repeat offenders. The committee is engaged in a thorough examination of the DJJ and its operations and will make their findings public when complete.
Few Wins Supreme Court Election
Greenville resident and Chief Judge of the SC Court of Appeals won a tightly contested election for the State Supreme Court last Wednesday. Having Few on the Court gives the 4th Congressional District 3 of the 5 Justices. The others are Justice Kittredge from Greenville and Justice Beatty from Spartanburg. We must continue to elect Justices that understand their position in the Judicial branch of government and not overstep their boundaries into the Executive and Legislative branches, as demonstrated in the US Supreme Court.
State Superintendent of Education
Last week a House Judiciary Subcommittee passed a bill that would cause the State Superintendent of Education to be appointed by the Governor instead of elected by popular vote. This would increase the amount of accountability surrounding the office of the Superintendent of Education by allowing the Governor to directly oversee the delivery of public education to South Carolina's children. Reforms like this one seem deliver a better return on the taxpayer investment and real results for parents and students. In order for this to happen, the bill must receive a 2/3 vote of both the House and Senate to be placed on the ballot in the General Election for approval by the electorate. This same piece of legislation did not receive the 2/3 vote in the House and was recommitted to the Judiciary Committee. I believe this measure has little chance of passing this session.
Thank you for the privilege of serving you in Columbia. Your feedback and assistance is critical in ensuring your voice is heard in our state government. If you have ideas on issues you want me to share with the rest of the General Assembly, or if you need assistance in any way, please don't hesitate to give me a call at 864-529-2860 or email me at eddietallon@schouse.gov. Remember, you can go to www.schouse.gov, click on my name and see how I have voted on each and every issue before the house. You can also see any bills that I have sponsored or co-sponsored.