Dear friends,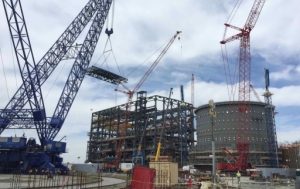 While the summer months have many of you scattered across the state and nation, I'm sure you are very well aware of the abrupt scenario surrounding the V.C. Summer nuclear facility in Fairfield County, a joint-effort project of Santee Cooper and SCANA. Due to the bankruptcy of Westinghouse, the lead contracting company and a subsidiary of Toshiba, the project has come to a complete stop, causing thousands to be laid off with nothing to show for the ratepayers and taxpayers who have faithfully done their part and sought a return on their investment.
Here in Spartanburg County, our ratepayers have not been affected. No Spartanburg ratepayer dollars were used to fund the VC Summer project. Additionally, the Base Load Review Act which provided a pathway for the creation of VC Summer was passed in 2007. While I was not a member of the legislature when the bill was passed, I am dedicated to finding the best path forward which must include the prevention of future occurrences of this nature.
Some of you have voiced your severe disappointment, and I firmly share in your sentiments. It is my intention to ensure you receive the best information available as this process unfolds.
Along with others, House Speaker Jay Lucas has been closely monitoring this complex multi-billion dollar situation since the announcement from Santee Cooper and SCANA. In such a situation, with millions of stakeholders, acting in unchartered haste is not necessarily conducive to the type of outcome we all desire. The House Speaker has instituted a special committee designed to investigate VC Summer, and has taken additional steps to halt rate hikes. Ratepayers and taxpayers should not be on the hook for this debacle.
Please find two press releases below from the House Speaker. If you would like to read further on this matter, these will be beneficial. As always, I remain available to speak with you individually and field any further questions you may have.
Rep. Eddie Tallon
House Speaker Files Motion to Dismiss SCE&G Petition
(Columbia, SC) – House Speaker Jay Lucas (District 65-Darlington) joined the Office of Regulatory Staff (ORS) in filing a motion requesting that the Public Service Commission (PSC) dismiss SCE&G's most recent petition.  The petition could lead to an automatic rate hike for SCE&G customers without full litigation of all the issues surrounding the failure at VC Summer. Speaker Jay Lucas opposes such an outcome.
"While the House Utility Ratepayer Protection Committee works to address this problem in cooperation with other government entities who are conducting similar reviews, it is imperative for the House to request that the General Assembly have a seat at the table to discuss SCE&G's proposed rate increase. This matter is far too important to be determined by a seven-member panel when hundreds of thousands of South Carolina consumers have already paid higher costs for an abandoned nuclear facility.
"The problems that led to the suspension of the VC Summer nuclear project were not created overnight. A series of unforeseen and unprecedented circumstances coupled with deficiencies in current law produced this unfortunate situation. The Public Service Commission previously approved nine rate increases for this particular failed project. It is abundantly clear that the General Assembly must ensure South Carolina consumers' fees are set at an efficient and fair rate."
###
Speaker Lucas Creates the House Utility Ratepayer Protection Committee
Viable plan must be determined before taking action on VC Summer situation
(Columbia, SC) – House Speaker Jay Lucas (District 65-Darlington) today announced the formation of the House Utility Ratepayer Protection Committee in response to the abandonment of the VC Summer nuclear facility in Jenkinsville, SC.
"Based upon the multi-billion dollar disaster at VC Summer and the nearly 6,000 workers who have lost their jobs, it is obvious that our current standard for energy development in South Carolina is flawed and in need of reform. Acting impulsively could potentially create greater turmoil for thousands of ratepayers who have spent their hard-earned paychecks on a service they will never receive.
"The only responsible path forward is to comprehensively study the issue and quickly determine a viable plan that best serves the interests of South Carolina ratepayers. Every possible option must be considered and remains on the table.  I have encouraged the committee to review and potentially repeal the Base Load Review Act and examine the Public Service Commission's authority.  The State has a responsibility to fully investigate this situation and ensure ratepayers do not experience this kind of failure again," House Speaker Jay Lucas stated.
Since last week's announcement, Speaker Lucas has been actively monitoring the situation and engaging with House membership to select the most qualified representatives to serve on this committee. The House Utility Ratepayer Protection Committee will be chaired by Representative Peter McCoy (District 115-Charleston) and includes 18 House members who represent constituencies covered by SCE&G and Santee Cooper. These members include: Carl Anderson (District 103-Georgetown), Nathan Ballentine (District 71-Richland), Bart Blackwell (District 81-Aiken), Micah Caskey (District 89-Lexington), Heather Crawford (District 68-Horry), Bill Crosby (District 117-Charleston), Sylleste Davis (District 100-Berkeley), Kirkman Finlay (District 75-Richland), Mike Forrester (District 34-Spartanburg), Wendell Gillard (District 111-Charleston), Kevin Hardee (District 105-Horry), Pat Henegan (District 54-Marlboro), Bill Hixon (District 83-Aiken), David Mack (District 109-Charleston), Russell Ott (District 93-Calhoun), Speaker Pro Tempore Tommy Pope (District 47-York), Todd Rutherford (District 74-Richland), James Smith (District 72-Richland). Chairman Bill Sandifer (District 2-Oconee) of the House Labor, Commerce and Industry Committee is also included to help streamline the committee's efforts.
"Each member selected to serve on this committee has been affected by the VC Summer suspension and is committed to finding solutions that better protect South Carolina ratepayers.  I am confident Representative Peter McCoy has the appropriate experience and temperament to lead the group as it works to create a viable solution that holds utilities accountable and prevents future mismanagement of hardworking ratepayers' contributions," Speaker Lucas concluded.
The House Utility Ratepayer Protection Committee will begin meeting over the next few weeks.  Upon conclusion of its study and if a viable solution requires General Assembly action, Speaker Lucas will call the House back into session before it is set to reconvene in January.
Thank you for the privilege of serving you in Columbia. Your feedback and assistance is critical in ensuring your voice is heard in our state government. If you have ideas on issues you want me to share with the rest of the General Assembly, or if you need assistance in any way, please don't hesitate to give me a call at 864-529-2860 or email me at eddietallon@schouse.gov. Remember, you can go to www.schouse.gov, click on my name and see how I have voted on each and every issue before the house. You can also see any bills that I have sponsored or co-sponsored.