The SC General Assembly returned to the Statehouse this week to vote on the nearly $8 billion state General Fund budget that goes takes effect July 1. Differences between the House and Senate versions were hammered out over the past three weeks by a conference committee.
The Good News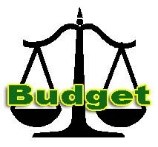 Unlike Congress, South Carolina legislators deliver the annual budget on-time with no need to pass a 'Continuing Resolution' to keep government functioning because of disagreements. Even better, SC's budget is balanced (we don't spend more than we take in) and we tuck away the maximum amount allowed in the 'savings fund' called the Reserve Account. I will also send you in the near future a rundown of all the legislation that passed and was signed into law this 121st (first year) session.
Budget Highlights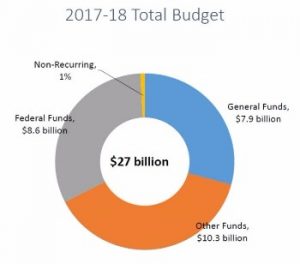 Overall, the state budget totals $27 billion. The General Fund is the smallest portion of the total budget. Other funds include fees and fines, but a bulk of that is pass-through monies for college tuition. The federal portion is money allocated from the federal government to various programs and passes through the state treasury.
Specifically, the General Fund budget that was approved, totals nearly $8 billion. Here are the highlights:
Funding for K-12 schools statewide increases by roughly $140 million over last year's spending plan including:

$29 million for new school buses
$60 million to increase the state's per-pupil funding to $2,425 a student
$56 million for school repairs in low-income districts in the state
$19 million to Charter Schools because of student growth
$12 million for K-12 technologies

$10 million in additional funding the state colleges & universities
$68 million in Hurricane Matthew cleanup costs
$150 million for the state's underfunded pension system
$10 million boost to the local government fund
$25 million to cover state employees' health insurance increases
$45 million to Medicaid Maintenance of Effort
$9 million for Mental Health Telemedicine
$25 million for DSS Child Support System
$16 million for DHEC Dam Safety Program
$3 million for MUSC to begin development of adult burn unit
$5 million for Correctional Officers hiring rate and retention
$6.7 million to DMV to implement federal Real ID program
$5 million for coastal beach nourishment
$3 million for PARD funds to be distributed to counties & towns
If you wish to review the detailed budget summary, it's online.
What's Next?
The budget goes to the governor where he may use his line item veto to strike specific allocations. The legislature may or may not return later this month to consider those vetoes. In the meantime, I continue to return to the Statehouse in the off-session to attend hearings for committees on which I serve. As a member of the House Legislative Oversight Committee and Chairman of the Law Enforcement and Criminal Justice Subcommittee, I will be holding hearings throughout the off session months. I use the interim to address constituents request, speak to various groups and prepare our committee for the coming session.
Thank you for the privilege of serving you in Columbia. Your feedback and assistance is critical in ensuring your voice is heard in our state government. If you have ideas on issues you want me to share with the rest of the General Assembly, or if you need assistance in any way, please don't hesitate to give me a call at 864-529-2860 or email me at eddietallon@schouse.gov. Remember, you can go to www.schouse.gov, click on my name and see how I have voted on each and every issue before the house. You can also see any bills that I have sponsored or co-sponsored.