South Carolina Fraternal Order of Police
October 15, 2012
Representative Eddie Tallon Awarded 'SCFOP Legislator of the Year'
Award for Law Enforcement and Public Safety Initiatives that Improve Quality of Life in South Carolina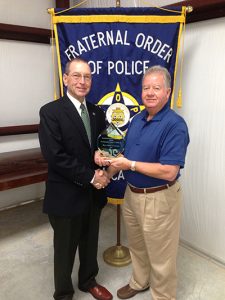 COLUMBIA, SC – The South Carolina Fraternal Order of Police awarded Representative Eddie Tallon its coveted Legislator of the Year Award for 2012 for his support of law enforcement and public safety initiatives during the 119th South Carolina General Assembly.
Representative Tallon, a retired State Law Enforcement Division (SLED) agent, graciously accepted the award at the SCFOP Midlands Lodge in Columbia, SC where he was highly praised for his tireless effort on behalf of the law enforcement community in South Carolina. Representative Tallon's longtime involvement and support of law enforcement and determination to improve public safety in South Carolina has been critical to the success of the SCFOP legislative initiatives. Jerry Wright, Chairman of the Legislative Committee said, "Eddie Tallon knows our issues because he lives them".
Representative Tallon worked tirelessly with the South Carolina Fraternal Order of Police and was the author and voice for the Blue Alert legislation which passed the General Assembly unanimously. The Blue Alert is designed to quickly warn the public and other law enforcement when a violent offender seriously injures, murders, or abducts a law enforcement officer. The Blue Alert will notify the public, other law enforcement, and the media through electronic highway signs and other law enforcement mechanisms of the incident. Tallon stated that, "From our experience with the AMBER Alert we have learned that rapid dissemination of information to the public can result in quick turnaround on critical tips that save saved lives."
Representative Tallon was also took a strong stand in the House of Representatives for law enforcement in regards to the Police Officer Retirement System. He worked with the SCFOP in preserving officer benefits, implementing a guaranteed Cost of Living Adjustment (COLA) and ensuring financial stability of the Police Officer Retirement System. "Eddie Tallon is a friend of law enforcement and continues to prove his dedication with each session of the General Assembly".
– 30 –