Last Thursday marked the end of this year's regular legislative session, however, we're far from finished. We take a week off while conference committees hammer out differences between bills that were passed by both the House and Senate. We return in special session June 16th to vote on the conference reports, including the state budget. The Governor will then have 5 days to issue any vetoes. We will likely meet one last time to sustain or override vetoes.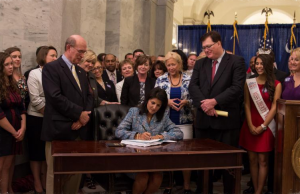 Domestic Violence Reform Signed into Law
SC's murder rate of women killed by men sits at twice the national average. That's unacceptable! Both the House and the Senate made Domestic Violence Reform a priority this year and yesterday Gov. Haley signed Domestic Violence Reform Act into law. The legislation gives law enforcement the necessary tools to reverse this pattern of abuse in our state. Among many things, it significantly enhances penalties for those found guilty of committing acts of domestic violence and pave the way for middle school students to receive instruction on how to identify and respond to domestic violence situations.
Legislative Scorecard
Pain-Capable Unborn Child Protection Act H.3114: House Republicans once again passed the Pain-Capable Child Protection Act. The legislation provides additional statutory protections for the unborn by shortening the amount of time a woman can abort her child down to a 20-week window. The legislation is now in conference committee.
Police Body Cameras S.47: I was on the six member conference committee that hammered out the differences between the House and Senate version.The House and Senate agreed on compromise legislation that would help law enforcement agencies start using body cameras. The bill directs the state's Law Enforcement Training Council to create guidelines for all state and local agencies to follow. Twenty agencies already use body cameras. Total statewide cost for body cameras is estimated to be $30+ million.
Government Transparency—Publicly Posting Agendas S.11: We sent the governor legislation that tightens the requirements on all government bodies to post a public meeting agenda prior to engaging in official business. This measure sheds sunlight on all government bodies and gives the public a better idea of what their government is doing and when they're doing it.
In-State Tuition for Military S.391: Gov. Haley will be at USCA Monday afternoon for the ceremonial signing of this legislation that grants in-state tuition rates to active duty military and their dependents. Currently, active duty military personnel who have been stationed in SC do not receive in-state tuition rates. This bill was championed by Aiken Sen. Tom Young.
Other Major Bills Signed into Law this Year
Human Trafficking S.196: This legislation closes a loophole in current law by allowing prosecutors to engage the grand jury system for individuals who are trafficking humans over county lines.
SC State Resolution H.3663: The House took forceful and necessary action to solve the well-publicized troubles at SC State University. The House passed legislation removing SC State board members and appointed interim board members.
James B. Edwards Civics Education Initiative S.437: Currently, immigrants seeking US citizenship must take the US Citizen Civics Test containing 100 basic questions about American history and government. A recent study found that 92% of immigrants pass this test, while only 4% of American high school students could do so. This legislation requires the same test to be administered each year to high school juniors throughout SC to ensure they are armed with the basic facts they need to be the informed and active citizens that our state and nation needs.
While it's too early to tally the final scorecard on this year's session, it is clear the House of Representatives has achieved most of its major legislative goals. But legislation doesn't become law until it clears both chambers and is signed by the governor. Below is a list of major bills passed by the House and stuck in the Senate.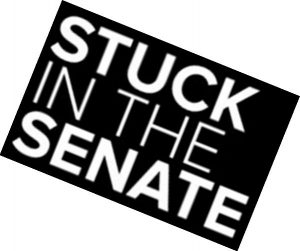 Passed by the House
Roads & Infrastructure H.3579
The House passed legislation to address the state's aging roads and bridges. The comprehensive measure revamps the existing DOT structure, leadership and funding model while providing tax relief. The Senate shredded our bill and proposed raising the state's gas tax 71% with no tax relief. The filibuster by one senator blocked the measure in the final weeks.
CWP Expansion H.3799
The House approved a concealed weapons permit reciprocity agreement with the state of Georgia allowing licensed CWP carriers to cross state lines without any legal ramifications.
Government Transparency H.3191
This House-passed bill establishes an office specifically designed to handle Freedom of Information Act concerns. The measure also expands the right to access existing electronic transmission of public records, sets a reasonable fee schedule for accessing records, and reduces the turnaround time on obtaining records from 15 to 10 days.
Ethics Reform H.3722
The House passed a package of 12 ethics reform bills in addition to an omnibus package that rolls the reform measures into one bill. Below are the highlights of the House ethics reform package.
Income Disclosure H.3186
Requires members of the General Assembly to disclose the source and type of all income received from any private entity.
Restructuring Ethics Commission H.3184
Revamps the makeup of the SC Ethics Commission and turns the Commission into an independent investigative body with the full resources of the SC law enforcement community and is tasked with investigating ethics complaints made against elected officials.
Eliminating Leadership PACs H.3188
Bans candidate affiliated "Leadership" Political Action Committees (PAC). The House didn't wait for legislation; in January we changed our rules banning leadership PACs.
Whistle Blower Protection H.3202
Strengthens the existing whistle blower law and provides additional monetary incentives for government employees to report misuse of taxpayer dollars. The hope is that where fraud exists, that this provision empowers state employees to come forward with that information, saving taxpayer dollars.
Primary Run-off Election Finance Law Reform H.3193
Clarifies how campaign funds should be attributed to primaries and primary run-off campaigns. Existing law was leading to confusion among some candidates for public office.
Protecting Our Citizens H.3145
Gives certain legal protections to bystanders who rescue those trapped inside sweltering cars and trucks.
Judicial Selection Reform H.3979
I introduced this reform and believe it is necessary to beginning reforming the process used for selecting our state's judges by removing the limitation of 3 qualified candidates to seek a judicial position opening up the process to allow every qualified candidate to participate, not just a select few.
Certificate of Need H.3250
This bill revises and streamlines the Certificate of Need process and repeals it completely in 2018. The House overwhelmingly supported this measure which helps to limit the regulation of healthcare providers around the state.
Patent Infringement H.3582
Patent trolls hinder private development projects and stifle innovative research from the private sector. This measure ensures that SC innovators receive added legal protections for their unique ideas. By creating a safe haven for innovation, we increase SC's marketability to research institutions and aid our economic progress.
Small Business Regulatory Sunset Reform Act H.3006
This act places a sunset provision on all future regulation laws. Many regulation laws are outdated, and this new measure would give an automatic expiration to regulation laws five years after implementation. This ensures we don't have cumbersome and outdated regulations hampering business owners.
Shortening Legislative Session H.3014
For the 10th time in the past 20 years the House has passed legislation that would shorten the legislative work session. Each attempt to shorten the legislative session has been blocked by the Senate.
House recognizes Spartanburg County Deputy Michael Hubbard for his heroic actions