The House is on furlough this week and will be saving the taxpayers $50,000 in expenses. Last week was our crossover week and a number of bills passed from both bodies and will be eligible to be taken up this legislative session without having to receive 2/3 vote for consideration.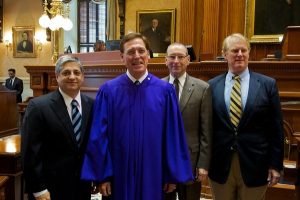 H-3560 – I have been writing about this bill that I sponsored for several weeks and am now proud to inform you that not only has it passed both the House and Senate, it has been signed into law by Governor Haley. This bill is a reporting bill that once a person has been adjudicated mentally defective, they will be entered into the NICS (National Instant Criminal Background System) and not allowed to purchase a gun. Included in this law is a restoration of rights provision, that if this person becomes well, they can be removed from the database. This bill passed the House with 112 Ayes and 0 Nays. The Senate passed it with 35 Ayes and 6 Nays. It is important to note that this law does not restrict anyone who is lawfully authorized to purchase gun and does not infringe on anyone's 2nd Amendment rights, as some would like you to believe.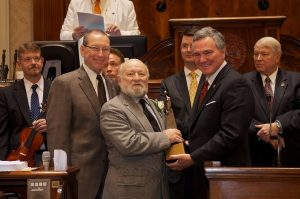 It was an honor this week to visit with Professor Mayo Mac Boggs of Converse College, who received the distinguished Elizabeth O'Neill Verner Award for Arts in Education. This is a very prestigious award for Professor Boggs in honor of all the incredible work he has done over his career.
Senator Martin and I were honored to escort Professor Boggs to the House where he received his recognition.
Ethics Reform Passes House:
This week the House passed a comprehensive ethics reform bill that substantially strengthens the ethics law. Among the sweeping changes it would end the General Assembly's practice of policing its own members without public oversight. The bill would create a Joint Committee on Ethics, consisting of eight members of the public and eight lawmakers, split evenly between parties and members of the House and Senate. The bill also calls for the creation of a Public Integrity Unit to investigate alleged criminal violations. The unit would have members from the state Attorney General's office, the state Law Enforcement Division, the Department of Revenue and other state agencies. Gov. Haley praised the legislation. Even critics admit the bill is a vast improvement. Highlights:
Requiring lawmakers to disclose the sources of their non-government personal income – but not the amounts – in addition to their publicly paid income.
Ending the blackout period before an election during which campaign contributions go unreported until after an election.
Regulating the lobbying of local governments and school boards by requiring 'paid lobbyists' who attempt to influence those bodies to register with the state.
Redefining political committees to require groups attempting to influence the outcome of campaigns to report their activities. Currently, the groups now can operate secretly.
Prohibiting political action committees, or PACs, with ties to House members from making campaign contributions to candidates.
CWP Enhancements: Another bill to improve and expand Concealed Weapons Permits passed the House with unanimous bipartisan support. It would allow for the renewal of CWP licenses online and increase the licensing period from 4 to 5 years.
Precious Metals: The precious metals bills I sponsored passed the House and was sent to the Senate, however, it did not meet the crossover date and the likelihood of it passing this year is slim. I will be seeking support of our Senators in hopes we can get action when we reconvene in January.
The House, next week, will be working on bills received from the Senate and those House Bills remaining on the Calendar. I anticipate the Senate debating the Budget when we return and have no idea how long they will take to pass it and return it to the House for concurrence.