New session of the General Assembly starts Tuesday, Jan. 10
The first year of the 122nd Session of the General Assembly will include important work on a number of vital issues facing the state, chief among them infrastructure, pension reform, education and the budget. Other critical issues include judicial reform, local government funding and tax reform to name a few.
With this new session, I am humbled to be taking on a new role as well. I have been elected Assistant Majority Leader of the House Republican Caucus. In this position, I will work closely with House leadership to ensure the conservative message gets out and our goals are met. I have had the honor of serving as the Chief Majority Whip for the past three years, and this new responsibility will be another challenge. I am looking forward to it.
I will continue to serve on the House Judiciary Committee and the Criminal Laws Subcommittee, where I have served for the past six years. This committee is very challenging and fits well with my law enforcement background.
For the past two years, I have served on the House Legislative Oversight Committee. This new committee is responsible for oversight of state agencies. I am also honored to continue serving on the Law Enforcement & Criminal Justice Subcommittee as it Chairman. This committee has oversight of the Department of Public Safety (S.C. Highway Patrol), Department of Natural Resources (DNR), the Attorney General's Office and SLED. This is a very important and challenging function of our government, and I am honored to be involved in this task.
During the first three weeks of the session, we spend the majority of our time in committee and subcommittee meetings, so there may not be a lot to report to you. However, once we get into full steam, I will send you a weekly update.
Thanks for having the confidence to allow me to serve you in the House of Representatives for the next two years.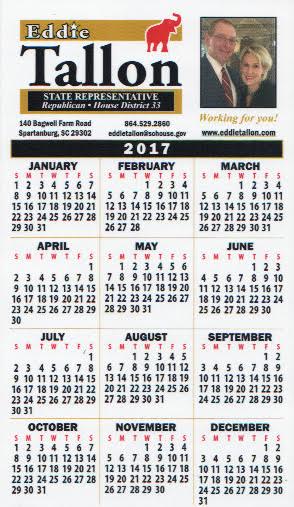 Want a calendar?
As you know, every year I send out a calendar and frequently called state and county phone numbers. If you have not received your magnetic calendar by next Wednesday and would like one, please send me an email to eddietallon@gmail.com, and I will get one to you.
The upcoming session
What: the 122nd Session of the General Assembly.
When: Starts noon on Tuesday, Jan. 10, recesses in May reconvenes in January 2018, lasting until May 2018.
Key issues: Infrastructure, Pension Reform, Education, Budget.
Thank you for the privilege of serving you in Columbia. Your feedback and assistance is critical in ensuring your voice is heard in our state government. If you have ideas on issues you want me to share with the rest of the General Assembly, or if you need assistance in any way, please don't hesitate to give me a call at 864-529-2860 or email me at eddietallon@schouse.gov. Remember, you can go to www.schouse.gov, click on my name and see how I have voted on each and every issue before the house. You can also see any bills that I have sponsored or co-sponsored.