Summer has passed, the children are back in school and the weather continues to be hot. I hope each of you have enjoyed your summer and are ready for football and cooler days.
I have been very busy over the summer, both on legislative matters and my consulting business. I attended the House Republican Legislative Caucus meeting, a one day legislative session, traveled to Chicago for the Commission for the Accreditation of Law Enforcement Agencies and attended the National Food Service Security Council Conference in Orlando. You can see I have had a lot going on since we adjourned the middle of June.
As for the one day legislative session, we were called back to address two of the Governor's vetoes. The Senate overrode both votes and the House overrode one and sustained the other. The veto that was sustained was a local issue regarding increasing the taxing authority in a Horry/Georgetown County fire district. The delegations were split, one wanting a referendum for the voters to approve and the other wanting the legislature to grant the authority. I voted to sustain the veto which would allow the voters to determine if they wanted their taxes increased. The other veto makes trespassing after notice in a public library a misdemeanor and allows the library board to restrict the use of the library for a certain period of time. I voted to override, after hearing the testimony of many of the states librarians detailing the problems they were experiencing because they could not bring a trespass notice against those creating problems.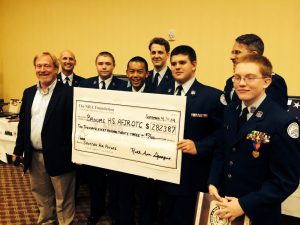 The Broome High School AFJROTC received a check from the Friends of the NRA at a banquet and was also named The Best of the Best in Air Force Jr. ROTC Units in the US.
I have opposition in the General Election and I am beginning the "campaign mode." I try to keep in touch with my constituents throughout the year and will continue to do so during the next 60 days until the election. I try to serve District 33 to the best of my ability and hope I am meeting your expectations. Please feel free to contact me with any questions or concerns you may have.
Please let me know if you would like a "Tallon for House" window sticker and/or would allow me to place a yard sign on your property. The yard signs will not be put out until closer to the election. I appreciate your consideration!