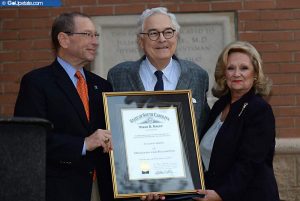 It was an honor to stand with Rep. Allison as we presented Dr. Josey with the Order of the Palmetto this week. Dr. Josey has done so much for our community.
———————————————————-
Spartanburg oncologist receives the Order of the Palmetto award
Published: Tuesday, October 15, 2013 at 9:23 p.m.
A longtime Spartanburg oncologist humbly accepted two surprise recognitions Tuesday evening outside the Gibbs Cancer Center in Greer.
The garden outside the cancer center, which contains plants and a fountain, was named in Dr. Julian Josey's honor. Then, in front of a crowd of friends, co-workers and family, Josey, who has worked for Spartanburg Regional Healthcare System since 1970, was given the Order of the Palmetto award, the state's highest civilian honor.
"This is a mostly undeserved honor," he said as he accepted the award given to him by Rep. Rita Allison, R-Lyman, and Rep. Eddie Tallon, R-Spartanburg, on behalf of Gov. Nikki Haley. "There are no words to express my gratitude."
Josey's humble reaction to the award mirrored that of his longtime friend and fellow oncologist Dr. James Bearden, when he received the same honor in May 2012.
"This is humbling" Josey said. "Bearden and I have been so blessed to have so many people who have bought into our vision. This is not about me."