I hope this finds you well and that you had a great Thanksgiving! We all have so much to be thankful for and I want to take this time to thank each and everyone who voted to allow me to represent you for another two years in the SC House of Representatives. My pledge to you is to continue to work for the betterment of District 33, Spartanburg County and the State of South Carolina.
The South Carolina House of Representatives convened this week beginning the 121st legislative session. The organizational session ushered in big changes in the way business will be conducted.

State Rep. Jay Lucas (R-Hartsville) was elected Speaker of the House and Rep. Tommy Pope (R-York) was elected Speaker Pro Tempore.
"It's going to be a new, brighter day," Lucas said after being sworn in. "No more surprises. No more last-minute drafts." Lucas pledged to break from tradition and share power with colleagues. He pointed out so much power shouldn't amass to a single person. He also promised to create more leadership opportunities within the House.
Quick Start for Legislative Session
On assuming the role of Acting Speaker in September, Lucas quickly formed Ad Hoc Committees that have been hard at work during the fall.
"Putting politics aside, and with renewed vigor, we focused our efforts on the issues that matter most to the folks in the State of South Carolina," said Lucas.
Lucas pointed to ethics reform legislation, which has been crafted over the past few months with much public input. Instead of one massive bill that could be doomed in the legislative process, up to 15 easy-to-understand bills will deal with ethics, income disclosure, campaign finance and FOIA reform will be pre-filed this month. I have been serving on this committee during the off session and I have high hopes we can get something passed this year.
"We should have nothing to fear from sunlight, but the public has much to fear from the darkness of secrecy."
– SC House Speaker Jay Lucas
Another Lucas committee that has been hard at work for several months is crafting legislation dealing with our crumbling roads and infrastructure along with the Criminal Domestic Violence Committee on which I also serve.
Watch Dog on Government
For the first time in history, Lucas, with a unanimous vote of the House, formed a permanent House Legislative Oversight Committee to inject true accountability into state agencies and be proactive in spotting potential problems before they arise to crisis.
Spartanburg's own, Representative Rita Allison, was elected Chairwoman of the Education, Transportation and Public Works Committee. All who know Rita realize she is a perfect fit for the daunting task ahead.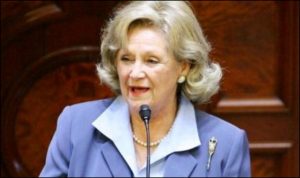 Rita is uniquely qualified to lead the House Education Committee. Her experience includes eight years as a local school board member, sixteen years of service in the legislature, more than five years in the Executive Branch (with much of that time serving as the education advisor to the Governor), ten years with the Commission on Higher Education, and a former member of the House Education & Public Works Committee.
I have been reappointed to the Judiciary Committee and will continue to serve on the Criminal Laws Subcommittee. I have also been appointed, by Speaker Lucas, to the very important Rules Committee. As stated earlier, we are making rules changes that will not only term limit the Speaker and Speaker Pro Tempore, but afford more input from individual members.
I will continue to serve as the Chief Majority Whip for the House Republican Caucus and will work closely with the Speaker and Majority Leader to ensure the Republican Agenda passes.